SALES AND LEASING
FINCH REALTY
Specializing in Commercial and Industrial Real Estate and Property Management Services in Nassau and Suffolk Counties on Long Island, Long Island as well as Brooklyn and Queens Counties in New York City
FACTORIES / WAREHOUSES / INDUSTRIAL PROPERTY / R&D / OFFICES / RETAIL STORES / OUTLET STORES / SHOPPING CENTERS
Need more space?
Have space and need a tenant?
Want to sell your building?
INDUSTRIAL BROKERAGE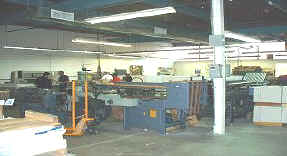 Finch Realty has over the years set the standard for Long Island's and New York City's Industrial Brokers. We were one of the first brokerage houses to open up the Suffolk County industrial market when Route 110 experienced its first development. Since then, we have innovated the industries of site disposition and acquisition; build to suit planning; leasing and marketing and property management.
Our data bases include our own exclusive listings as well as those of our fellow industrial brokers. If there is space available, we will arrange for you to view it. We will then assist you in evaluating the space from a functional standpoint and an economic perspective.
A landlord will benefit from our exhaustive marketing experience. We will help you evaluate how best to a "make over" a property to position it for a fast transaction. We will then be able to marshal our extensive marketing skills and contacts to bring about a fast and satisfactory transaction.
Whether your need is in the areas of manufacturing plants, distribution centers, research and development centers or laboratories, we can make it happen.
RETAIL BROKERAGE

Finch Realty has represented local, regional and national retailers as well as large shopping center and strip store owners. We can help a Landlord and a tenant locate a property; analyze it and evaluate its demographics. Our experience will then allow us to negotiate your sale or lease transactions.
E-mail: Info@FinchRealty.com

Mail: 55 Central Avenue, Farmingdale, N.Y. 11735

Telephone: (631)-249-0101

Fax: (631)-249-3596

A PARTIAL LIST OF SOME COMMERCIAL INDUSTRIAL SITES ON LONG ISLAND THAT ARE CURRENTLY AVAILABLE

A PARTIAL LIST OF OUR PAST AND CURRENT COMMERCIAL INDUSTRIAL CLIENTS AND TENANTS
Finch Realty is a New York State Licensed Realty Estate Broker serving the Metro New York Business Community for over 35 years. We are still individually owned and managed with the goal of providing the highest level of services to our local community. Our field staff average over twenty years of commercial industrial experience in the Nassau, Suffolk, Brooklyn and Queens County marketplace which guarantees that your business receives only the most skilled and knowledgeable representation.
Click below on the size range that is of interest to you:
|1,000-4,999|5,000-9,999|10,000-24,999|
|25,000-49,000|50,000-99,999|100,000 & Over|
© Finch Realty 2000-2016 All Rights Reserved